As the housing market continues to peak, millennials are opting to buy property to rent out in a bid to have tenants cover their mortgages. And through this innovative approach to enter the market, we have seen the birth of the landlord generation.
In March 2007 the average house price in Melbourne was $400,000. A decade later, the median has more than doubled to $826,000.
The graph listed below charts the astonishing rise: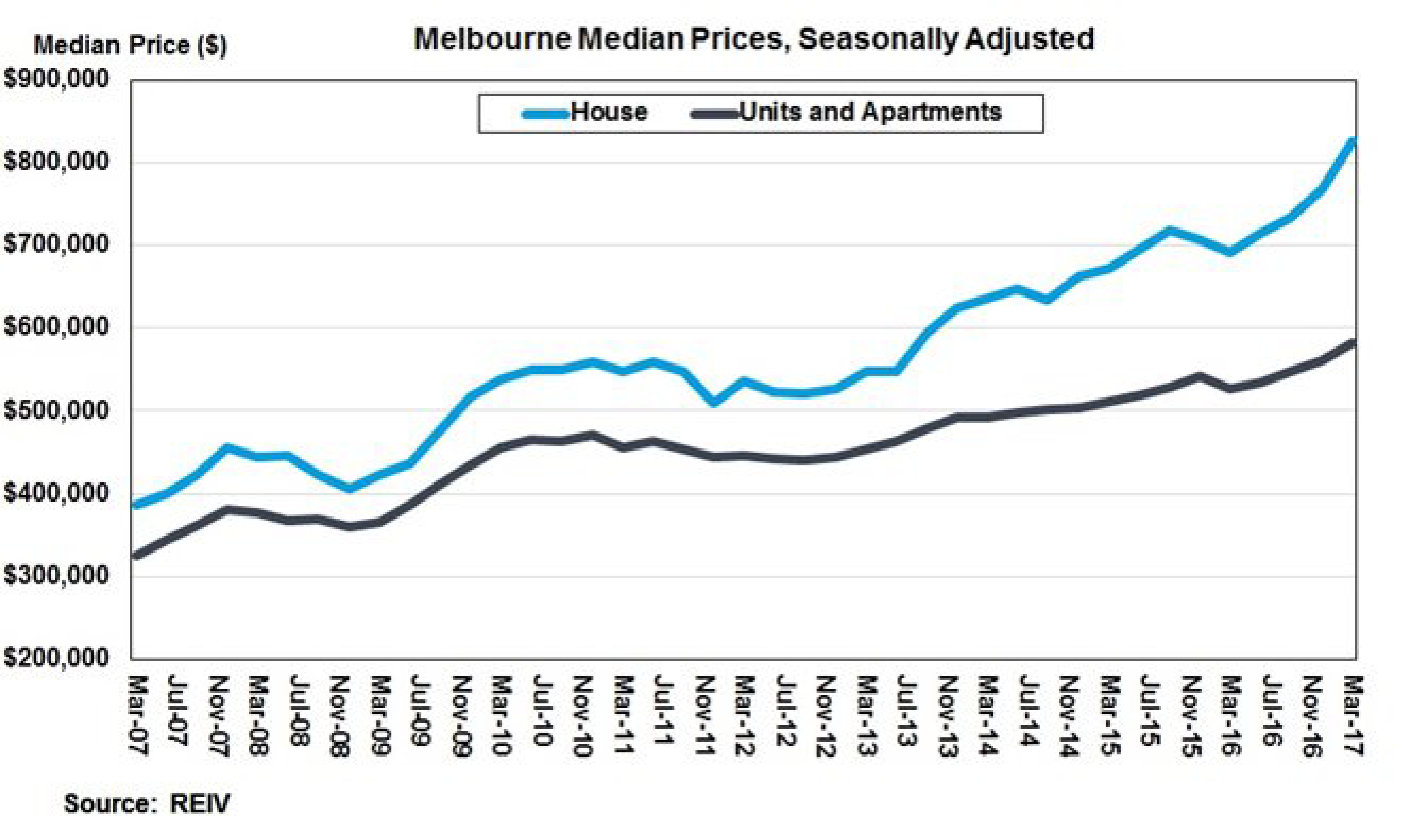 The outstanding growth has fuelled a rise in rents – back in the 2007 March quarter, renters could expect to dish out an average of $260 per week to keep a roof over their heads. In December 2016, the average rent had increased to $390 per week.
While the rise in rent is unmatched by the rate that property prices are increasing, it nevertheless reflects a favourable trend for landlords. It is projected to keep on growing as the vacancy rate, currently at just 2.2%, continues to fall.
WHAT HAS MADE THE MARKET SO ATTRACTIVE TO INVESTORS?
REIV CEO Gil King says market growth has been fuelled by high population growth, a low stock of housing, and record low interest rates.

High population growth is a particularly telling phenomenon. As recently as 2005, Victoria was experiencing a net loss in migration, with more people leaving the state then migrating to take up residence.
Since then interstate immigration to Victoria has grown exponentially, and Melbourne's population has been projected to increase from 4.67 million to as much as 8 million by 2050.
This will continue to place pressure on housing stock, pushing up prices and increasing competition among renters.
According to Gil King, low rental stock is already having a significant effect: "It is important to remember that reduced supply in the rental market will impact on rents and the availability of properties for lease."


THE SIGNS ARE INCREASINGLY POSITIVE FOR THE LANDLORD GENERATION
Turning to interest rates – back in March 2005 – the Reserve Bank set the rate at 5.5%. When the board last met on May 2 of this year, they choose to leave the rate untouched at the historic low of 1.5%. This has led to lenders offering relatively easy credit to investors.
In April 2007, banks gave investors $7.34 billion worth of new loans, a figure that in December last year had increased to $13.27 billion. Despite a slight contraction from the April 2015 peak of $14.61 billion, the trend is again heading upwards.
Added to this mix have been federal and state government initiatives such as negative gearing concessions, which have bolstered the already favourable market conditions enjoyed by investors.
While the REIV points out that 83% of property owners in Victoria only own one or two properties, this number is certainly increasing. The number of investors owning more than five properties in Australia grew by 35% from June 2014 to June 2015 and CoreLogic data says Victoria has the highest proportion of investor owned property in the country, at 30.5% in June 2016.


BUT WILL THIS GROWTH CONTINUE?

Despite Melbourne's year-on-year growth rate being reported at 13% at February this year, there has been much discussion in the media recently about the need for governments to take steps to address what CitiGroup chief economist Willem Buiter has labelled 'a spectacular housing bubble'.
The good news for investors is that the market will continue to grow for a while yet. "While demand continues to outstrip supply, the REIV expects price growth will continue across the city, however at a more moderate rate," says Gil King.
Steven Lusi is a Director at Direct Property Group and specialises in advising investors. He points to phenomenon of Airbnb as something that will continue to impact on housing stock.
"Investors, particularly ones that have significant capital, are always on the prowl for good property. We're finding, that more people we speak with are doing Airbnb rentals. That's probably putting a lot more pressure on the rental market in particular….and further pressure on prices."
NOW'S THE TIME TO BOLSTER YOUR PORTFOLIO
Gil King points to state and federal government decisions impacting the investor market, but expects this to increase rents – yet another positive sign for the landlord generation.

"Declines in investor activity will impact the rental market, which has already been tightening for the past year. Reduced rental supply is likely to result in rental increases, particularly in the city's inner suburbs."

Steven Lusi expects investor activity to pick up after federal budget initiatives kick into action on July 1 and singles out challenges for first home buyers looking to enter the market.

"Because we're not releasing land at this point in time and most young people want to live in the centre of the action, close to the CBD, and prices are just getting more and more unachievable for that price point, and more and more investors are coming into the market."
There isn't a better time for investors to grow the equity of their portfolio by purchasing property to rent out for additional income. Ultimately, it's the landlord generation that has unlocked the way to reap the immediate financial rewards of home ownership.

Looking for a more efficient way to manage your investment properties? Click here to speak to our team to learn more.